THE BOSUN SCHOOL – SUMMER 2021
174 Bluenose Drive – Lunenburg, Nova Scotia, Canada
https://www.picton-castle.com/bosun-school.html
WHY BOSUN SCHOOL?
Today there are many excellent programs for mariners on subjects to do with training for emergency situations. Fire fighting tools and techniques, understanding life rafts, correct use of immersion suits, life jackets and more. These courses are very much worthwhile for anyone keen on sailing or thinking of going to sea in any form.
Regardless of ones' interest and even access to ships, boats, and yachts, today it is quite difficult to acquire the skills any mariner wants in order to make seafaring easier and more enjoyable and in fact safer. BOSUN SCHOOL is about acquiring the seamanship skills that might go a long way to prevent an emergency onboard. It can take years at sea to gain some of these seamanship skills that BOSUN SCHOOL teaches in a few months. So that's why we have a BOSUN SCHOOL, a land-based mariners skills enrichment program for those seeking to up their game. And we enjoy doing it.
OUR FACILITIES
The Bosun School is set up at 174 Bluenose Drive along the working waterfront of Lunenburg, Nova Scotia, Canada. This facility is a combination of a wharf into the harbour and warehouses from the age of sail and fishing out of Lunenburg. In our warehouse we have workshops for ship's carpentry, spar making, rigging, small boat building and repair and sailmaking. Near-by we have the famous Dory Shop as well as a multitude of small boats and visiting vessels to work on and learn from.
BOSUN SCHOOL – Overhauling Your Ship
The theme of this year's Bosun School is "Refitting – or – Overhauling Your Ship", after a long layup. As an example, Gustaf Erikson of the famous Ericson Line out of Mariehamn, Aaland Islands frequently bought and commissioned good ships into his fleet that had been laid up a long time. Such famous vessels as the MOSHULU, HERZOGIN CECILIE, LAWHILL and many others were quickly refitted for sea after extremely long layups, etc. in the old days it was routine to lay ships up for long periods and then jump aboard, fix them all up as good as new with just the crew and get back to sea.
The captains, mates and AB's would show up on a vessel often years into a lay up and in short order get them ready for sea and off they would sail to carry on in trade. This took skill, a great deal of experience, talent, drive, and determination by very capable mariners to pull off. This they did again and again. And not just Erikson ships. Sailing ships were routinely laid up for years at a time only to get overhauled and off to sea.
THE PLAN FOR THE SUMMER 2021
In Bosun School we do not structure our weeks long in advance. This is because we want to take advantage of weather and opportunities that come our way, on short notice sometimes, just as a real Boatswain would do. Additionally, one of the key attributes of the capable and valuable mariner is flexibility. Attempting to operate to a rigid schedule of events would make planning simpler but would run counter to achieving this valuable seafarer's skill. Yet, there must be some structure.
STARTING OFF – THE FIRST WEEK OR TWO
The first week of Bosun School is about getting some basic skills across, getting evened up some and evaluating the abilities that students brought with them to the session.
To this end, fundamental safety issues at the site, risk assessments, basic rope rigging, knots & splices, whippings, terminology, safe working practises, going aloft safely will be gone into the first week.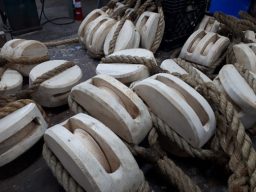 ONWARD – THE FOLLOWING WEEKS
In the coming weeks there be a mix of mostly practical and theoretical workshops followed by much practice. If you make a wire splice once you get say you have made one. If you make ten wire slices, you know how to splice wire, done and dusted. Same is true for everything else. Instruction, doing, and much practice.
MOVING BIG HEAVY THINGS
This is summer in Lunenburg Harbour. Much to do. One big area of seamanship interest is moving heavy things safely and effectively. Boats need moving, large steel yards need moving, sometime engines need moving, big stuff gets shifted around all the time. In Age of Sail ships doing such was a routine matter. Today it has become an arcane craft. Easily remedied though as we learn how to send steel yards and topmasts aloft and rig a ship up. Doing this, using smarts and only hand power, we learn how effective this is and also how much safer these methods are. Small boats get launched, larger ones too. Much moving of large and heavy objects. We will all learn how to do this as a team.
RIGGING
Clearly one the major areas of interest for our Bosun School gang is rigging. Rigging is a broad and expansive subject including many sub-parts. Our in depth focus on rigging will not make anyone a professional rigger but should make one much more capable. The nature or ropes and wire ropes, coiling in many forms, fiber seizings, alternative rope splices, braided rope splices, wire splices, parcelling and serving, advanced knots and bends and how to use them, stoppers, tackles, blocks: their care and feeding, overhauling and repair of rigging, keeping the rigging up, tarring the rig, greasing, making a new piece of wire rigging start to finish, etc. Intro to setting up the rig.
WORKING ALOFT
Working aloft safely is a big and important subject. And there is no reason not to be safe while aloft. There is substantial difference in working aloft in big schooners or square-riggers. We will train you in this. Gantlines, bosun chairs, back ropes, etc. While this includes the proper use and training in harnesses, there is much more to being safe aloft than simply having harnesses. Working aloft, bending sail, setting sail, taking in sail, furling sails, bracing, handling headsails.
SMALL BOATS
No one is a true mariner if not reasonably competent in small craft. Small boats require all the judgement, decision-making and planning as a big ship or yacht, just on a different scale. And boats are tons of fun. At our disposal are rowing dories, sailing dories, pulling boats, outboard powered skiffs, sloops, punts, south seas cutters, outrigger dug-outs, West Indian "two-bow" boats (like peapods) and a larger sloop and a even a schooner too. We have boat davits high above the waterline that are important pieces of gear to learn how to use. Overhauling, caulking, painting, launching, rigging, mooring, sailing, rowing, motoring, docking, fendering, hauling out small boats.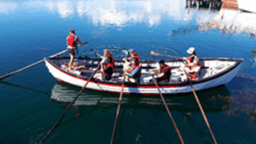 BOSUN DECK WORK
Keeping the ship clean and organised.
Painting and coatings
THE PAINT LOCKER
THE BOSUN LOCKER
Capstan and anchor windlass mysteries revealed.
Caulking and pitching or putty ships and boats, getting them water-tight. Keeping the ocean out.
Oiling the decks and why.
Outboards
Damage control
Miscellaneous Deck Seamanship Wrinkles – hawser-splicing, heaving lines, lead lines, compass, point system, ship checks, look-out, turning too, foul weather gear, types of hawsers and mooring to a wharf with tides, care and feeding of a wooden wharf, chafe gear-many types, anchoring theory…
THE ENGINE ROOM
Engine rooms and machinery are not for everyone. But everyone who goes to sea in a ship, a boat, or a yacht should have some basic understanding on what's going on down there. We will see how far we get in this area. Main engine, auxiliary generators, water makers, pumps, and so on.
SHIP'S CARPENTER
In days gone by any mariner would have some familiarity with woodworking.
SAILMAKING
Basic sailmaking techniques to be delved into. Hand seaming, machine seaming, grommets, basics of roping, the ever-important patching of a sail, from a beautiful patch to last a long time to an emergency patch giving an old sail a little more life.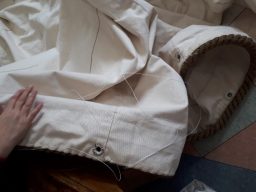 FIELD TRIPS
Hopefully we can visit some or all of the following. All depends: sail loft, rigging loft, maritime museum, shipyards, haul outs, lobster boats, tour boats, etc.
And we all get to enjoy LUNENBURG in the summertime – Wednesday afternoon small boat races, pubs, working waterfront, opportunities to sail, bookstore, ship chandlery, music, cookouts, and plenty more.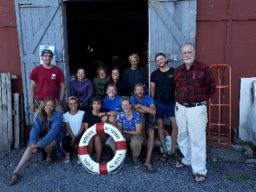 Dates and Details
The next session of the Bosun School will run from early June 7 to August 27, 2021 at Picton Castle's home base in Lunenburg, Nova Scotia, Canada.  The cost, which includes room and board, is $6,000 CAD plus HST (total $6,900 CAD).  We expect that generous scholarship funding will be available.
Applications are now being accepted from sailors of all nationalities, but current pandemic travel restrictions may prevent those from outside of Canada from attending.  For those requiring a visa to enter Canada, only a temporary resident visa is required, not a student visa.
In order to apply, please send your CV and a letter to info@picton-castle.com that tells us more about you, your seagoing experience and your motivation for wanting to become a Bosun School student.  For more information on the School, please call us at +1 902 634 9984 or send us an email.