April 14th, 2015
We just sailed from Bequia of St Vincent and the Grenadines, yesterday afternoon in our Barque Picton Castle. Bound for Antigua we are just now. Sailing under the lee of St Lucia and Martinique – plan to get to windward of Dominica to get some useful winds on the Atlantic side of the islands and carry on towards Falmouth. Or see how it goes. Sailing along the lee of Dominica is nice too, even if winds are fluky. The day looks to be coming in squally. Maybe I will go for fluky on the smooth lee side of the island instead of heavy squalls on a lee shore on the windward side.
The Picton Castle came to anchor under sail off Hillsborough, Carriacou, Windward Islands, Eastern Caribbean a couple weeks ago. We had been 35 days at sea from St Helena deep in the middle of the South Atlantic and a couple weeks before that in Cape Town on this 6th world voyage of hers. 5,600 miles. We had crossed the equator back into the northern hemisphere for the first time in over two years. A good passage, with a good gang, made good time, a good few days of rain squalls along the coast of Brazil, but fair winds and currents so, can't complain. Studding sails were set for quite a few days too.
As land approached on the port bow, no doubt much as Columbus may have seen it for the first time, we sailed out of the Atlantic around the north end of Carriacou with a fine fresh following breeze on a trade-wind morning in to the blue Caribbean Sea and let go the big port hook into the sandy bottom off this small West Indian port. Pretty much perfect way to end a passage.
Carriacou is as peaceful and enchanting as ever. One gas station, a few dozen road-side BBQ cold drink shops and a large wooden fishing sloop in frame abuilding and getting planked up at Windward. Not bad. Actually three wooden vessels are being built right now over at Windward; two motor fish boats and a sloop. Dunstin Bristol, son of shipwright Mathias Bristol (RIP), once in Customs, came down to see us and good to see him when we visit. Mathias and his brother George Bristol were shipwrights who taught me caulking and carving timber and planking when I worked at the shipyard in Grenada. This has served me well over the ensuing years. Young mariners coming up have little idea how to caulk, spike in a plank or lay in a dutchman anymore unless they get a chance like that. The easy tempo of the island was capped by a big old lobster feed for all hands on the free watch at OFF THE HOOK near MAMA JOY'S in Paradise Beach made for a sweet visit to Carriacou. Then we sailed to St George's, Grenada, 35 miles away.
Grenada remains charming yet as well. High, mountainous with lovely old brick buildings is the town of St George's. Can't say I like this mega-yacht marina in the lagoon where the shipyard used to be that much, with no way to haul boats and just expensive restaurants instead of welding shops, only really big yachts. But I suppose its much better than a shut down bankrupt shipyard for the local economy. My old shipwright boss Bones is going strong. Looks the same, just white hair now.
Getting things done in Grenada is a bit easier today than it was 30/40 years ago, but no two or three big red or light grey two masted schooners in from Trinidad alongside in the Careenage anymore, but so it goes. Still plenty of inter-island traders though. The cool old veggie/fruit/spice market in town is still going strong and has been fixed up with all little quiet stucco stalls now and tiled up all instead of weathered plank tables under tin roofs with lots of delightful market noise going on.
One Mike Burk Windjammer Schooner is still around; Mandalay ex Vema ex Hussar, once a grand old three masted schooner of 450 tons. Once a grand yacht and later a research vessel manned entirely by lads from Lunenburg under the firm command of Captain Henry Kohler, she has been a passenger schooner for awhile. She is registered in Tanzania now and is shy one foremast. But the hull looks as strong and graceful as ever. She needs a multi-millionaire owner to love her up and restore her. I do not know what has become of the Flying Cloud, Yankee Clipper or the Polynesia, the old Portuguese fishing schooner. Nice vessels these all were at one time.
The gang explored spice plantations, an old rum distillery with water wheels and gears from the 1700's, waterfalls, fish markets, a big BBQ at Donald's house and another big 'Boil Down' on the beach at Mal Bay by former shipmate Queen.
We put in at Union and Mayreau. All doing well it seems, we could see houses getting built at nearby Petite Martinique. I am told that fishing is strong today and tax-free import/export is doing well too. Mayreau gets plenty visiting boats some days and few the next. Sweet as ever and folks are nice. A surprisingly excellent restaurant up on the hill; 'Island Paradise' and at a fair prices. We launched all our small wooden sailing craft at Mayreau to have some good small boat sailing exercise in and about the Tobago Cays. Only one broken boom and one broken rudder, all fixed pretty pronto.
Bequia is much the same, a bit more built up but far more like its old self than many places we could think of. A bit more lively and that's not bad either. Everywhere is internet cafes now. Former Prime Minister, Sir James, Son Mitchell holds court at the FRANGIPANI. Some recall the building of Bob Dylan's schooner Water Pearl right on the beach here, now quite a long time ago. The old freighting schooner and former ferry to St Vincent, the Bequia Schooner Friendship Rose, built right here too, is now all spruced up and making daysails. She is an interesting vessel, always the husky one back in the day but I guess that she is about as much schooner you can put into 80 feet that is possible to build. I figure that she is the very last built sailing ship built for cargo in the western hemisphere. She would be last commercial sailing ship at the extreme end of the age of sail, not including those built for romantical reasons.
They still also have the real working wooden sailing whale-boats here; pulled up on the beach with, as you well know, most famous one being called the Iron Duke which in its original incarnation came off a New Bedford whaling ship in the 1870's. She has only been rebuilt 20-30 times or so. Every time getting heavier frames and planks it seems. She is a bit heavier now than the original Beetle-built version that pulled into Port Elizabeth, lo this century-plus years ago but still very much the classic whale boat of yore. Like Grandpa's old axe which over the years has had 4 new heads and 6 new handles… Any harpooner out of Nantucket or New Bedford would feel right at home in these craft. They have four original wooden sailing, pulling whale boats yet. They got a small whale this year. Waterfront buzz suggests that they might just pack in their whaling from Bequia soon just out of evolving sensibilities. They just don't want to be told by anyone to stop. I get that, but no one needs to kill whales anymore, do they? No one with a car anyway.
Saw an old friend from Nova Scotia in his 50′ wooden schooner at anchor at Bequia. He has a sweet schooner perfect for sailing the islands and few know them as well as he does. Raconteur, gifted chef de cuisine, brilliant social commentator, well known balladeer and guitar picker (with a number of superb records to his credit, google it all up) and all around fun guy. If anyone wants to have the time of their lives sailing in the Eastern Caribbean (and who in his right mind does not?) then they should sign on with Tom Gallant in his delightful island schooner Avenger, sailing about paradise – sort of part Jimmy Buffet and part Sterling Hayden and all heart and talent. Sounds like a recipe for clean sweet island living to me. Despite all these cheap plastic bare-boats that proliferate, there is still room for a fine ocean-proven, handsome wooden schooner and true Nova Scotian island schooner skipper who knows and loves what he is doing to guide one into and share in the delights of the Lesser Antilles of the Eastern Caribbean under gaff rig. We do not regret what we do so much as we regret what we don't do.
Our two year, eight month old son Dawson makes us laugh and smile every day. At anchor his day (and ours) starts just after dawn with him clambering out of his bunk, checking on his mum Tammy then checking on me before he climbs the chart room ladder to run around the quarterdeck like a mad monkey as his mum and dad have their morning coffee, their very very early morning coffee…
The morning ferries all depart from the town dock almost at once for Kingston across the way in St Vincent, as we watch an island tropical morning grow and warm up the day before us. The occasional fisherman rows his two-bow boat across the bay in the early morning while things are still quiet.
The little guy goes swimming every day he can here at some little coral sand beach with tiny lapping waves. Sometimes I get to join him. When at small little beaches, he wants one of us to come in with him. He loves the water but won't go in without one of us. Grabs me by the finger and pulls me along into where he wants to play. He does not want me to actually hold him but for he to hold me as he requires. He holds on to me as he kicks and splashes. Sometimes he lets go for a bit, floating for a bit and then comes back. He will stay in for hours splashing and dunking. It is much fun. He loves getting tossed back and forth between his mum and me. He sails a barque around the world in the bluewater tradewinds and in our old lapstrake 24′ long boat on expeditions to little cays with the big crew. He has his own deck scrub down brush and he has comments at every muster. He runs around ashore chasing goats and chickens while sucking mangoes. Basically he has the kids life of dreams. Swallows and Amazons has nothing on this little guy. Dawson has been a good little shipmate this voyage. And for that we too are very very thankful.
TRADE WINDS
In the harbour, in the island, in the Spanish Seas,
Are the tiny white houses and the orange-trees,
And day-long, night-long, the cool and pleasant breeze,
Of the steady Trade-Winds blowing…
There is the red-wine, the nutty Spanish ale,
The shuffle of the dancers, the old salts tale,
The squeaking fiddle, and the soughing in the sail,
Of the steady Trade-Winds blowing…
And o'nights there's fire-flies and the yellow moon,
And in the ghostly palm-trees the sleepy tune,
Of the quiet voice calling me, the long low croon,
Of the steady Trade-Winds blowing…
John Masefield 1902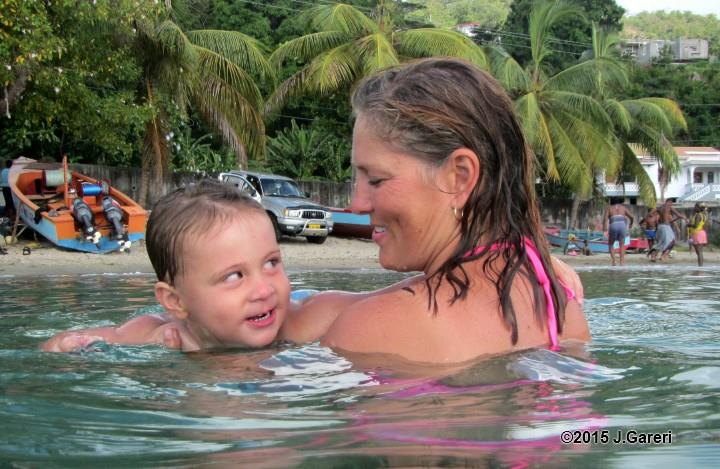 Ship's boy Dawson and mum Tammy swimming in the Caribbean Sea, photo by John Gareri

Crew watch Caribbean islands from the rail of the Picton Castle, photo by Donald Church

Picton Castle at anchor, photo taken from aboard Lunenburg dory Sea Never Dry