Lunenburg Harbour, Nova Scotia
An ice free, hurricane hole, great refit port for PICTON CASTLE and others.
And on the sea road to anywhere.
Lunenburg needs to keep on drydocking ships, vessels and boats.
In 1991 when I first set out to put together a plan for a bluewater square-rigged ship, that would become the Barque PICTON CASTLE, it was always the plan to bring the ship to Lunenburg for the big refit. I knew this was going to be a big job, and I knew that this was the place to do over a great ship and get the job done well, swiftly and cost effectively.
Over the years I had learned a lot about Lunenburg while researching architectural design details and then finishing up restoring the big 1894 fishing schooner ERNESTINA ex EFFIE M. MORRISSEY, (vessel of Captain Bob Bartlett, famous Newfoundlander explorer). This big wooden schooner had been heroically rebuilt by the new Republic of Cape Verde, then repatriated under the command of Captain Marcos Lopes (4,000 miles under sail alone, by the way) to the United States in 1982 as a gift from that small island nation off West Africa. After fishing the North Atlantic, exploring the Arctic, the ERNESTINA had been trading between New England, Senegal and Cape Verde for decades after WWII. An amazing and rich story, perhaps for another time. In the process of my years sailing that vessel after restoring her into the finished swan she was, I became quite familiar with the blacksmiths, archives and marine artisans here, and also the Lunenburg Foundry.
          1894 Schooner ERNESTINA ex EFFIE M. MORRISSEY
The Foundry with its thousands of historic and practical patterns could make period working gear for the schooner. I made plenty of visits in the early 1980s as part of the efforts in making the ERNESTINA a fine finished thing. In three years, we had ERNESTINA sailing as a fully restored piece of history and an inspected and certified sail training vessel taking kids on amazing trips from New York City to Newfoundland. African identity themes were a daily portion. And I received the National Trust for Historic Preservation "National Honor Award" in 1987 for the design and authenticity of the finished restoration. This all would have been a lot harder without Lunenburg. And throughout this process, including a few actual stops in Lunenburg with ERNESTINA once up and running, if memory serves, six or so in all, I became quite aware that this was the place to bring a ship for the Next Big Job. Should such a job come to pass…
And thus we sailed into Lunenburg with PICTON CASTLE in 1996 after a voyage from Norway to Denmark, England, Spain, Madeira, Connecticut, New York City, Kingston New York, New Bedford, Martha's Vineyard and finally, coming along side at the Lunenburg Foundry in Lunenburg Nova Scotia.
   The HMS PICTON CASTLE early in WW II
After a long and twisty voyage here the real work began. What a job! It seemed like we had pretty much everyone on Lunenburg's waterfront working on turning this old English and Norwegian steamer and Royal Navy Veteran into a beautiful square-rigged medium clipper for bluewater ocean voyages under sail. Scotia Trawler, Snyder's Shipyard, Dauphinee Blocks, Walters Blacksmith, Aubrey Zinck & Co (a "doing mofo"), Michele Stevens Sail Loft, The Dory Shop and many others including the Lunenburg Foundry, all were abuzz making the ship we see today. We did our own rigging. That winter the Grand Banker and The Knot pubs did okay too.
Masts, yards, gaffs & booms, that clipper bow, blocks, new 3" pine decks, caulking, pin rails, fife rails, wiring, portholes, skylights, anchor windlass, capstan, cat heads, hawse pipes, chart house, boat davits, boats, freezers, bunk rooms, foc'sle bunks, ballast, the list goes on and on…. The work, as massive as it was, took less than a year all told. Amazing. Then that fall of 1997 we set sail on our first voyage bound round the world. After 40,000 miles, a lot of adventures and a year and half later we sailed back in.
The former HMS PICTON CASTLE sailing from Lunenburg, outward bound
For generations upon generations Lunenburg has been a go-to seaport to get work done on many a fine ship and vessel. But now Lunenburg is teetering on the edge of losing that ship hauling capability forever. This port absolutely needs the longstanding marine drydocks to carry on as a working seaport – but also to support the town as an enchanting visitor destination. It is critical to retain the capability to haul out ships for repair on this vibrant working waterfront of Nova Scotia. This affects everybody and all businesses hereabouts.
The Barque PICTON CASTLE crossing the Timor Sea bound for Bali
Most folks along the South Shore would be aware by now that the family-owned Lunenburg Foundry has fallen on hard times, packed it in and is now up for sale. Not as clear is that this dilemma is actually about two separate enterprises; a fabrication plant known as the Foundry, and a shipyard on the other side of the harbour, referred to as the Slipways. It would, of course, be good to see both revived. But what is critical is that the ability to haul vessels out of the water In Lunenburg Harbour carries on, and even grows. And most of those along the waterfront believe that it can survive and grow.
The Foundry itself is housed in a cluster of buildings at the west side of the harbour, just past the old French cemetery. Since 1891 it has been casting iron and bronze marine fittings, fabricating forged and welded propellors and steel parts for ships all over from Boston to Barbados (Texas and England too). This plant was booming in WWII and has stayed busy mostly ever since. On ships of many sizes and classes, one could find Lunenburg steerers and windlasses, hinges, vents and all sorts of other gear. Every schooner, dragger, every maritime outport household and in Newfoundland and Labrador had a Lunenburg wood cook stove. As a young guy in the islands, I saw that every fine West Indian trading schooner sailing from Trinidad through the Grenadines in the Lesser Antilles all had Lunenburg blocks and a Lunenburg wheel and steering gear from the Lunenburg Foundry. And most New England schooners too. It would be a fine thing if some entrepreneur could come along, take over the Foundry, recapitalize it and returning to a going concern, then build it up again. We can hope someone gets bold and does this.
Yet it is the slipways, the drydocking of ships, the ability to haul vessels out of the sea, to repair them in Lunenburg Harbour, that is critical to our area economy and to PICTON CASTLE. Also, to culture and heritage of the seaport of Lunenburg and region. For now, others can speak to the rich culture and heritage value of this sort of ship work. Let's focus on the major impact this ability to haul ocean vessels here has on the greater area economy. And likewise, what its loss might mean. With domestic residential and waterfront real estate value on a steep upward trend these days, with the attendant short-term, one-time profits to be made in a heated real estate market, this year-round service comes under genuine threat.
A big western rig stern trawler getting hauled at Lunenburg Slipways
For generations, small and medium sized working vessels and ships have been built and launched into the waters of Lunenburg Harbour. Off to sea they sail, and then back again to get hauled out to be worked on below the waterline. This latter ability, and particularly at this scale, has been the factor that has allowed this port, and so many enterprises all around Lunenburg County, to provide reliable living wage jobs, year in, year out, through good times and depressions. When ports that built much bigger ships went bust decades ago, Lunenburg just kept plugging along, never getting scandalously rich but never going under either. "Sustainability", a buzzword today, but a watchword back in the day.
       Launching the Schooner MARTHA SEABURY at the Dory Shop
When any ship, fishing boat, yacht, or tall ship sails in around Battery Point to get hauled out of the water at the slipways for an overhaul or refit, as they must by regulation and common sense do from time to time, these ships bring good money with them – and leave lots of money behind when they sail away again – and not just at the shipyard. PICTON CASTLE sure did, so have others. These ships bring outside money, the best kind and this wealth gets spread around pretty well.
It is reasonable to estimate that for every single dollar spent at the shipyard, between three and five dollars are spent in the broader Lunenburg environs; in Dayspring, Blockhouse, Bridgewater, Blue Rocks, Second Peninsula, even Halifax, and Lunenburg itself. Hardware stores, sail lofts, welding outfits, riggers, shipwrights, marine and boat supply, boat delivery crew, lumber yards, and that's just on the marine side of things. Then there are the hotels, B&Bs, restaurants, pubs, vehicle rentals, bike rentals, t-shirt shops, printers, upholsterers, lawyers, monthly house rentals, gas stations, mechanics, pharmacies, grocery stores (and yes, the NSLC stores, aka liquor stores, can't leave them out) all running full tilt and often doing so "off season" too, because of this working waterfront, of which the drydock ability is absolutely key. The demand today for dry docking ships, and all the benefits this service brings to Lunenburg, Nova Scotia remains strong – even as it can likely grow and become stronger. Or so many along this waterfront believe.
Today, tourism is the big economic driver around here. But why are visitors drawn to Lunenburg? Does anyone truly believe that they only are drawn to this salty seafront town because of the many fine restaurants the community now boasts? Or do they come from all over only for the welcoming inns and B&Bs? These many welcome visitors find their way here from afar to our waterfront and partake of these excellent offerings of hospitality because Lunenburg is Nova Scotia's and Canada's small, maritime, real working seaport. Not some fake pirate theme park contrivance. Because through it all, and due to hard work and enterprise of those working on the waterfront year-round, this old town still glows with the image of a thriving and authentic working waterfront. It is not for nothing that an engraving of Lunenburg's wharves was on the back of the old $100 bill for ages. A handsome telling image to be sure. Tourism depends on the working waterfront (even if all do not see this) and that the working waterfront remains dynamic and active. This depends on an able effective shipyard to haul vessels. Make no mistake. All is deeply connected. The tourism industry needs the working waterfront far more than the waterfront craves tourism. True story, this.
   The back of a $100 bill, from a 1939 photo of the waterfront
Some 60-70 years later a photo in the exact same place. The fishing schooner on the far right is also the same one!
If the generations-old ability to haul ships is lost from this working waterfront, this would not kill the economy of Lunenburg right away. No, this might barely be noticed at first. But it would bleed out over time. In five years, we might all be scratching our collective heads wondering why-oh-why? We would be looking for and finding other factors to blame (and no doubt funding expensive studies). Let the shipyard work die, doing direct heavy damage to the working waterfront, and in due course Lunenburg as a destination for its tourist economy would take a mortal hit. Perhaps to die out all together. In any case a diversified economy is a healthy thing we are told and believe, right?
And some years tourism is not so good, or even very bad, what with pandemics, border closures, recession, who keeps working then? Lunenburg needs to keep drydocking ships, vessels and boats.
The wharves of the working waterfront of Lunenburg Harbour are Lunenburg County and Nova Scotia's entrance ramps to the highway of this blue ocean world. From here you can make your way to all other lands in the world. And likewise, you can sail into Lunenburg Harbour from almost anywhere, take this exit ramp off that highway from anywhere else in the world. From France, New England, Bermuda, the Caribbean, South Africa, Norway, Tahiti, anywhere. But it is the slipways, the ability to haul ships and service them, is why that ocean on/off ramp has been so successful.
Let's take a thumbnail look at the direct business case for an active slipway/drydock. Looking into the harbour we can count a number of local iconic vessels that depend on this drydock for their very existence. For example, what becomes of the preserved side trawler CAPE SABLE or the 1938 fishing schooner THERESA E. CONNOR, key historic reminders of what made the province strong and built all the beautiful houses overlooking many a harbour, unique heritage assets of the truly outstanding Nova Scotia Museum system, and the wonderful Fisheries Museum of the Atlantic, if these vessels cannot haul out in Lunenburg? Can these artifacts of Nova Scotian history, these vessels be put on the end of a tugboat's towline and towed up or down the shore or to be hauled elsewhere? And if not, which is likely the case, should these now unique examples of the profound seabound working heritage of Nova Scotia and the Maritimes be abandoned or cut up? Because that is one example of pretty much what is at stake here.
Then of course, there is the magnificent and internationally famous Canadian sailing icon, Nova Scotia's own Schooner BLUENOSE II, hauls out here every time, always has. What happens if this vessel can no longer haul out here in her homeport? She must sail elsewhere to haul and get looked after. Maybe no big deal but she must sail away fully crewed up, to get hauled, at odd times of the year and at what increased costs?
  The staggeringly stunning Schooner BLUENOSE II
Same is true with our world voyaging training ship, the Barque PICTON CASTLE, which does all her major refit work here in Luneburg between voyages ever since getting rebuilt here 25 years ago. Will she need a new refit port? Drawn to this town by the drydock, and the many marine artisans, and the example of magnificent BLUENOSE herself. Millions spent by this one ship alone. How many major projects have been drawn to this waterfront for its innate abilities and services? Most critical and obviously lead among these marine services is the ability to haul a ship out of the water to be renewed. All depends on this.
And how many provincially owned vessels might there be (ferries, etc.), all needing drydock services on a regular basis? 25-30? If a Lunenburg drydock only gets a quarter of these vessels, this alone will keep a drydock busy for half a year. Now let's look outside our fair Nova Scotia.
      The Le Have Ferry; one of many ferries in the Province of Nova Scotia
CSS ACADIA of Halifax
Looking outward from our harbour – how many ships, boats, yachts, and sundry other craft have sailed into Lunenburg's working waterfront from overseas over the years for major refits? All of which must haul out as well. If they cannot haul out here, they can simply go elsewhere. Many other small seaports would be glad for the business. And their area sailmakers, riggers, hotels, and restaurants of these communities will grow to meet the demand of an influx of such opportunity, even as those around Lunenburg shrink.
Ships from afar hauled out at Lunenburg
Now, at the intersection of collapse and opportunity, is the time to make sure that keeping, even growing, the ability to haul ships out of the sea to be worked on by skilled folks, year-round, right here in Lunenburg for generations to come, remains alive.
Lunenburg needs to keep drydocking ships, vessels and boats. Everything depends on this. The ability to haul ships is the aorta of the working waterfront heart of Lunenburg Nova Scotia.
    You can still get a dory built at the 1917 Dory Shop! Or learn to build one.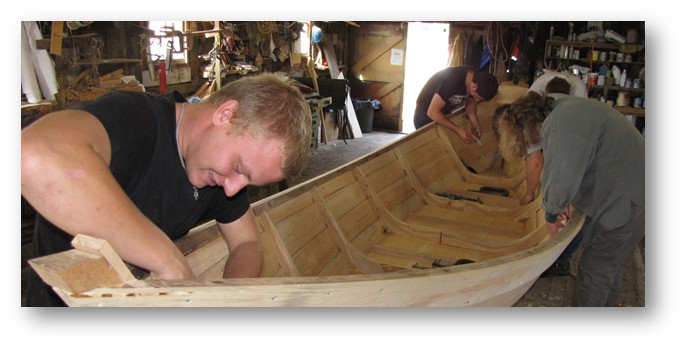 And at last, fare well to Nova Scotia, that sea bound coast…
The working waterfront along Lunenburg's foreshore. Age of sail wharves, and ships, tall ships, come and go, two days from the Gulf Stream, draggers, lobster boats and scallopers, workshops, day sailers, small schooners and one huge schooner, sailing yachts and motor boats, dories too, whale watchers, seal observers and puffin chasers, ship chandlers, marine suppliers, pubs and brew pubs, marine electronics, restaurants for every taste, boat builders, inns and hotels, learning mariners starting out, music and art, welders and carpenters, book stores, antique shops, sailmakers and riggers, gift shops, ice cream cones (moon mist a fave), long time residents in their grandparents' house, newcomers finding their way, schools and daycare, musicians and filmmakers, pharmacy, and Tim Hortons, or an espresso café if you like, shipwrights and lawyers, leading (and trailing!) edge technologies, museums and brand-new things. Old heritage homes, house painters keeping them up, churches, folk music festivals and an Opera House, gardens and parking lots, and never enough of either. Wednesday afternoon "Hump Cup Regattas" in the harbour – with no known course, small dogs on leashes now, kayaks and horse drawn carriages. And if you need to make a film in a maritime theme – we'll get you sorted. Late springs and long summers, exquisite autumns. We do not talk about the winters, but they are really not so bad…really…we are as far south as you can get in Canada and still be on the seashore…