Wednesday, July 1st, 2015
What a difference a day makes. Yesterday we began with 21 crew members, went down to 16 as people signed off and then shot up to 37 as new trainees arrived. With how busy the day was with the festival and store, it is only now that the change is readily apparent. There are people everywhere! Once underway we began a run through of each emergency situation: fire, abandon ship and man overboard, and then did a practice drill on each one. Next up we did a little bit of sail handling – mainly the headsails and spanker. Then came the up and overs which went very well. The smile on a new trainees face when they are back on deck is certainly infectious. Donald made us all an amazing dinner from the seemingly endless supply of fresh food we stocked up on this morning. A long day it was, but with so many highs that it was well worth working an extra hour or four.
SHIP'S WORK: Lifesaving and firefighting eq't training completed for new trainees; donning immersion suits and PFD's; aloft training.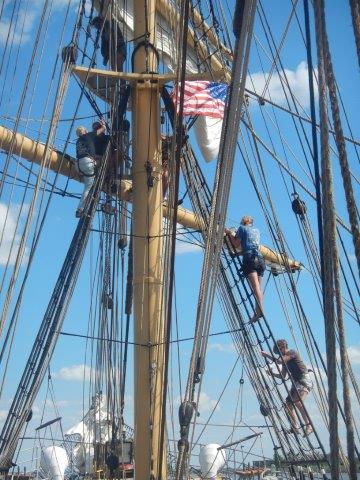 BOUND FROM: Camden, NJ
TOWARDS: Greenport, NY
TIME ZONE: ZD + 4
NOON POSITION: 39°54.5'N /076°07.8'W
DAYS RUN: 2.4 nm
PASSAGE DISTANCE RUN: 904.2 nm
DISTANCE REMAINING: 320 nm
COURSE AND SPEED: PPO, 3.7 kts
WIND: Southwest, 4
WEATHER: Sunny, barometer 1018
SWELL HEIGHT & DIRECTION: n/a
SAILS SET: None – motoring