Wednesday, March 18th, 2015
We're used to a tropical, outdoors-lifestyle on PICTON CASTLE but the continuing rain showers are sending most projects down below: the bosun and riggers have turned the cargo hold into an impromptu workshop and there are bits of rope and wire stretched here and there being spliced or served or tarred. The sailmakers have set up shop in the spacious salon, using the mother of pearl-inlaid Bali sea chests as temporary sail benches, the new sails spread out all around them on the varnished wood. The watch is split between the carpenters shop, aloha deck and boat deck where they are using the wet weather as an opportunity for a deep clean and scrub down. Nicole has the helm, neon bright in her wet weather gear. Alex is standing by on the quaterdeck, keeping a weather eye out for squalls. We eat down below when it's wet out, and between meals there's usually a small group of the off watch hanging out and playing cards, Pictionary or backgammon.
SHIPS WORK: Deep clean of carpenter's shop, coffee station and drinks cooler rack, galley house and forepeak. Sailmakers are roping the new upper studdingsail, roping a new topsail and making grommets on a new jib. Riggers are catching up on odd jobs: tidying stores, sorting rope and making up new headsail sheet pennants. Donald is saving us from getting too grumpy about the rain by making cinnamon buns for breakfast, and fried chicken for supper.
BOUND FROM: James Bay, St Helena, South Atlantic Ocean
TOWARDS: Grenada, Windward Islands, Caribbean Sea
TIME ZONE: GMT -2
NOON POSITION: 03°31.3'N /037°10.7'W
DAYS RUN: 183 nm
PASSAGE DISTANCE RUN: 2,305 nm
DISTANCE REMAINING: 1,520 nm
COURSE AND SPEED: North by West, Course made good 320° true, 7.6 knots
WIND: Wind Force 1-2, Variable
WEATHER: Light rain interspersed with fair weather and heavy downpours, overcast, barometer 1017 millibars and rising slowly, visibility poor
SWELL HEIGHT & DIRECTION: East North East 1-2 m
SAILS SET: Main upper and lower topsails, foresail and fore lower
topsail and main and fore topmast staysails set, all braced up on the starboard tack.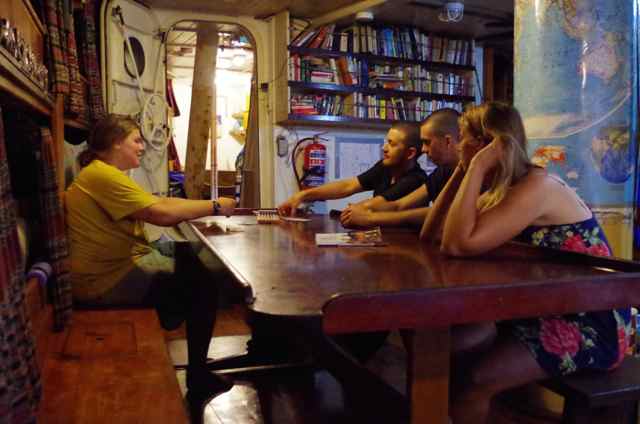 Playing cards in the main salon